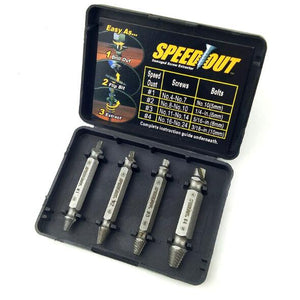 4 pcs / set Screw Extractor Set drill out easy to Remove Screw broken Speedout Set
Regular price $11.98 Sale
Item Type: Nuts & Bolts

Model Name:YHG133
Item Height: 0
External Certification Test: ISO9001
Year: 0
Special Features: out Remove broken screw
Material Type: High Carbon Steel
Item Width: 0
Item Weight: 0.1kg
Item Length: 0inches
characteristics:
4 pc Screw & Screw Extractor Drill Bits & Guide Set, Broken Easy Outside Fastener Kit
Remove any bolt or screw! (Phillips, Flat, Hex, Painted, etc)
Durable hardened steel construction
Quick & easy to use
Removes any stripped screw in 10 seconds or less
Works even in uneven, uneven, or rough breaks
Self centering tip
Compatible w / quick connect chuck systems
Size: 1 #, 2 #, 3 #, 4 #
use:
Remove the broken screw in the wood, a wood screw head drill hole first, then use another head take screws.
If you've stripped a screw or screwed the head out of a screw, you know how frustrating it can be. Well, not anymore. Introducing the damaged screw and screw remover. With Screw Remover, you can easily remove any stripped screw in ten seconds or less. You will never again be slowed down or frustrated by a stripped or broken screw bolt. If you can use a drill, you can use the Screw Remover. In fact, this patented process works so well that it can even remove stubborn deck screws out of redwood. Even if you break the entire head of a bolt or a bolt, you can still pull it right out. no problem. Made with Durable Steel Hardened and is Reusable! Great for: Contractors, Carpenters, Handymen, Do-It-Yourself, Great for Anyone! Works with ANY Screw or Screw of ANY size! It's so simple, anyone can use it!
Package Includes:
4 pc Damaged Screw Puller in a black plastic case.